Environmental care
Eco-Conscious Service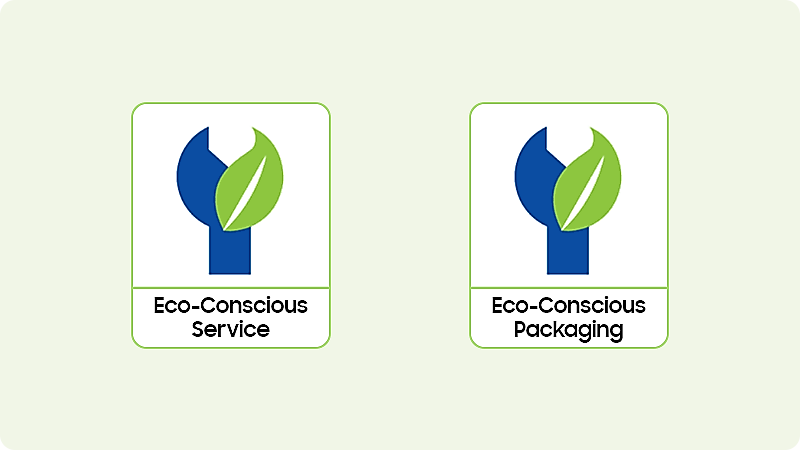 Meet our new badge
Exclusively used in customer service area where our environmentally conscious service projects have been applied.
The badge expresses our will to provide Customer Services with a mindset of environmental care.
The blue spanner of the logo icon represents Samsung Customer Service and the green leaf which completes the spanner implies our care for the natural environment.

We are using the badge for specific areas of customer service where we are seeking to apply our Eco-Conscious Service or Eco-Conscious Packaging projects.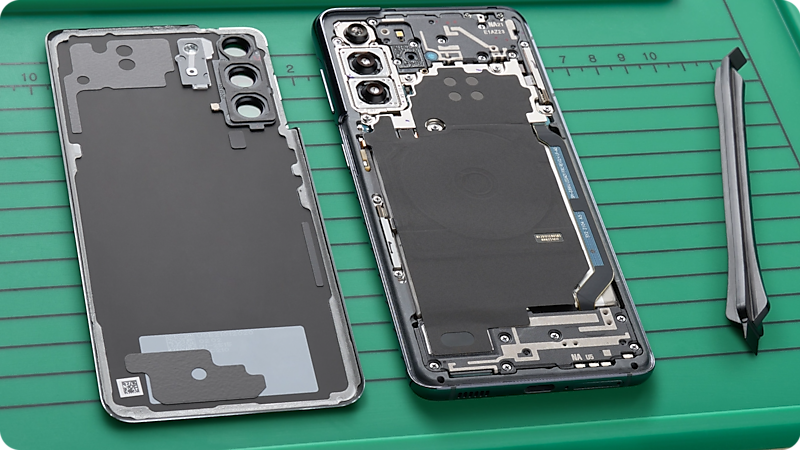 Eco-Repair
You can choose to reduce e-waste by only replacing broken parts.
Samsung is dedicated to offer various options for you to repair your products instead of purchasing new products.
By offering convenient ways to repair, you contribute to reducing the carbon footprint of making new products and the amount of e-waste discarded.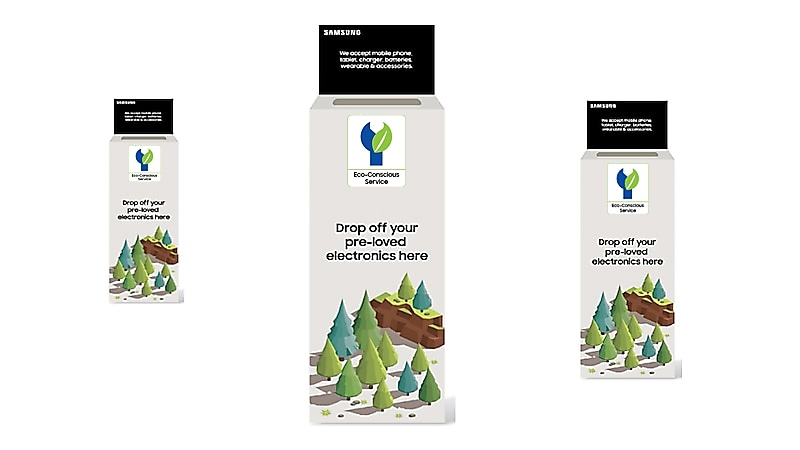 Eco-waste collection
Drop-off your old mobile devices to our collection points. We will recycle them responsibly.
At our main service locations, we have placed e-waste collection boxes. Any customer who wants to dispose broken or used mobile products can simply drop them off to collection boxes.
We will deliver them to certified recycling companies so that we can take care of the last step of product lifecycle in a proper way for our environment.
Subject for this program: Small products such as mobile phone or wearable devices.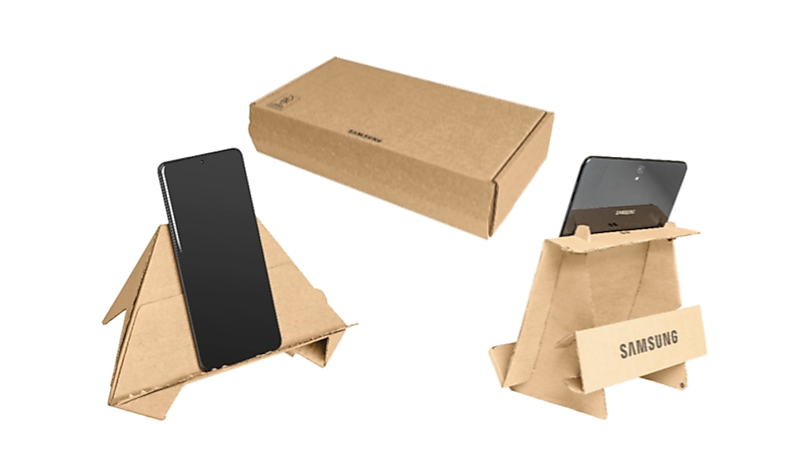 Eco-Package
Customers will receive their repaired products in eco-friendly packages.
Instead of using a fancy glossy package for a repaired product, we'll use packages that are made environmentally conscious way.
If you find our "Eco-Conscious Packaging" logo from a package, it means the package is made of materials such as recycled paper, or plastic with recycled content.
Our phone and tablet mail-in Eco-Conscious box claims that are approved to use: 97+% plastic-free packaging, sustainable forest certified (SFI) paper, 50+% recycled content (PCR).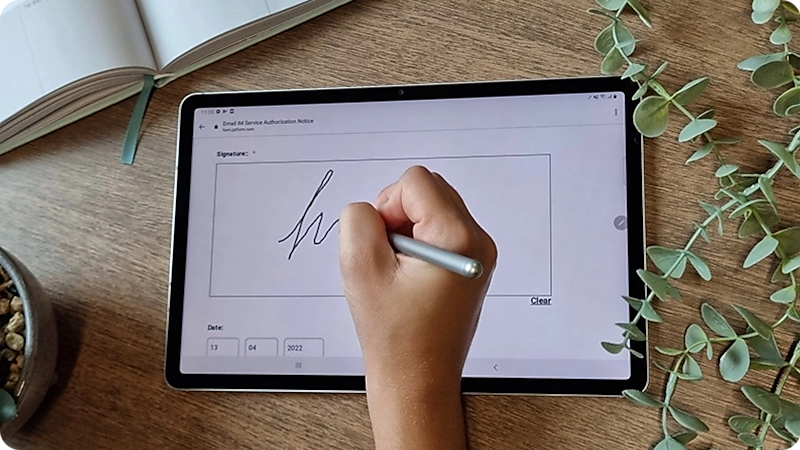 Eco-Paper free
When getting a repair service, request our service center to send you information via electronic document.
We're trying to make a "Paper-free" environment in our service centers. Our service centers will give you an option to get service information through email, SMS, or SNS messengers.
Why is this related to the environmental care? By replacing paper documents to electronic documents, we can save trees from being cut down to make paper.
We've opened paper-free solution to our service centers but some of them that use their own systems may not provide you this option.
We're here for you
Contact Samsung Support
Contact us online through chat and get support from an expert on your computer, mobile device or tablet. Support is also available on your mobile device through the Samsung Members App.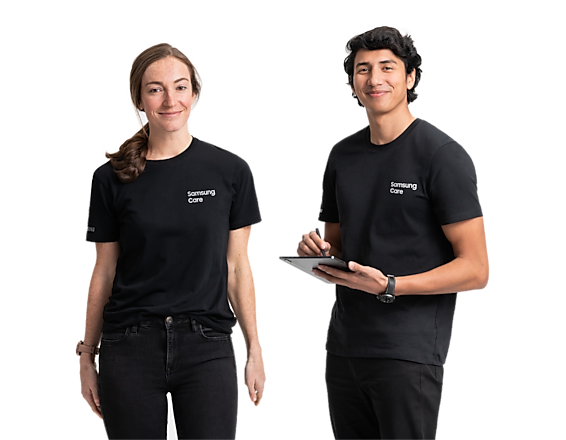 Contact us
We're here for you.
Call or Text Us
Give us a call
How can we help you?
Mobile

8 AM - 12 AM EST

7 days a week

Home Electronics & Appliance

8 AM - 12 AM EST

7 days a week

IT/Computing

8 AM - 12 AM EST

7 days a week

Text Support

24 hours a day

7 days a week

Fast, easy checkout with Shop Samsung App
Easy sign-in, Samsung Pay, notifications, and more!
Or continue shopping on Samsung.com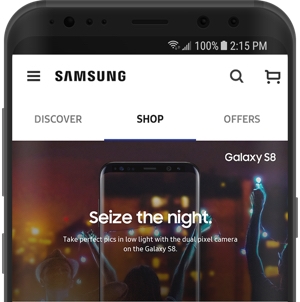 ×
You Are About To Be Redirected To Investor Relations Information for U.S.
Thank you for visiting Samsung U.S. Investor Relations. You will be redirected via a new browser window to the Samsung Global website for U.S. investor relations information.
×
Redirect Notification
As of Nov. 1, 2017, the Samsung Electronics Co., Ltd. printer business and its related affiliates were transferred to HP Inc.
For more information, please visit HP's website:
http://www.hp.com/go/samsung
Select CONTINUE to visit HP's website.