A smart way to save more than the commute
Make working from home even more productive and efficient when you maximize the use of your devices with the SmartThings app
Video Call App
Take video calls on a big screen
Launch Google Meet1 on your Smart TV2 and use the camera3 on your phone as a webcam for bigger – and better – video conferencing.
Link to Windows
Transfer your files instantly
Effortlessly transfer files from your phone to your PC. With Link to Windows,4 working on your documents is just as easy as moving them.

Workspace
Access your work PC from anywhere
Access your work PC with Remote PC Access.5 Connect your Bluetooth keyboard and earbuds6 to your Smart monitor and work anywhere.
Set yourself up for success
Find more ways to Do the SmartThings!
Set the Mood
Make your home ready for a party, a movie or a workout
in seconds.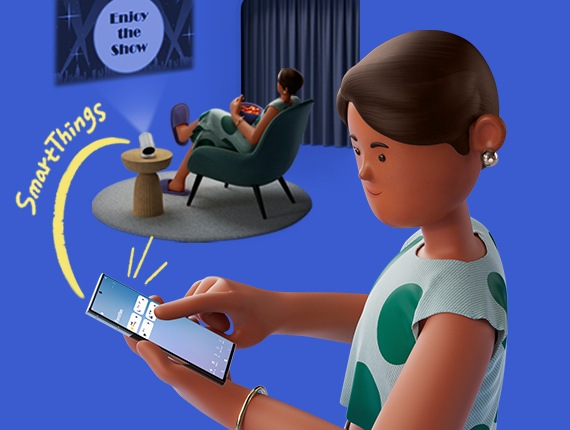 Think Green at Home
Save energy and prevent waste by monitoring everyday
energy usage.
Stay Fit & Healthy
Create a daily routine of home workouts and healthy cooking.
Care for Your Pet
Check in on your pet – and your home – even when you're away.
* All devices should be connected to Wi-Fi or other wireless network, and registered with a single Samsung Account. Availability may vary by country, region, service provider, network environment, or device, and may change without notice. Images and on-screen contents simulated for illustrative purposes. Actual UI may vary depending on software version, model, region, and other factors.
1Google Meet is a trademark of Google LLC. Google Meet app availability may vary by market. Requires optimal network connection and Google account registration.
2 The supported Samsung TV models are QN900/QN850/QN800/QN700/S95/QN95/QN90/QN85/QN75/Q80/Q70/Q60/BU8500/BU8000/The Serif/The Frame/The Sero. The list of supported Samsung TV models will be updated.
3Phone camera (Android OS 8↑, iOS 13↑) or additional compatible webcam required. Sold separately. If using phone camera as a webcam, TV should be registered in the SmartThings app first, and select [TV>Camera Sharing] in the SmartThings app on your phone. The supported webcams are Logitech C920, C920s, C922, C922x, C925e, C930e, etc. The list of supported webcam will be updated.
4Users must link their Samsung Galaxy phone to their Windows PC through 'Link to Windows' on phone and the Microsoft Phone Link App on PC, and follow the set-up prompts, including being signed into the same Microsoft account. PC (Microsoft Phone Link App) requires Windows 10 or above. Microsoft Phone Link requires Samsung Galaxy phone to be on and connected to the same Wi-Fi network as the PC. Some apps may restrict content to be shared on other screens or may require a touch screen to be able to interact with them. Some related features may vary by device and country.
5 Remote PC Access is only supported for Windows 10 Professional or later and Mac OS 10.5 or later. Auto-recognition of office PC requires valid Samsung account and Easy Connection to Screen app installation on PC (Mac OS not supported). Depending on the network environment including the firewall configuration, router type, and wireless signal strength, connection problems may occur, such as low speed, disconnection, or limited connection.
6Compatible Bluetooth keyboard, mouse and earbuds required. Sold separately.