Take a step towards healthier living
Whether it's working out at home alone, with your friends, or maintaining a healthy and balanced diet – with SmartThings, there's no holding you back.
Samsung Health
Work out with a virtual trainer at home
No personal trainer? Correct your form and get motivated with your phone and Samsung Health app1 on your Smart TV. See yourself on the screen2 and Smart Trainer corrects your form. Keep track of heart rate and calories burned by using your Galaxy Watch.3

SmartThings Cooking
Cook healthy meals with ease
Healthy cooking is easy on the SmartThings app.4 Find and follow a recipe, then click 'Send to Oven'5 to set your oven to the right mode, time and temp. Then simply press the button, and your food will start to cook6

Make the healthier choice for yourself
Find more ways to Do the SmartThings!
Work from Home
Connect your mobile and desktop devices to work smarter at home.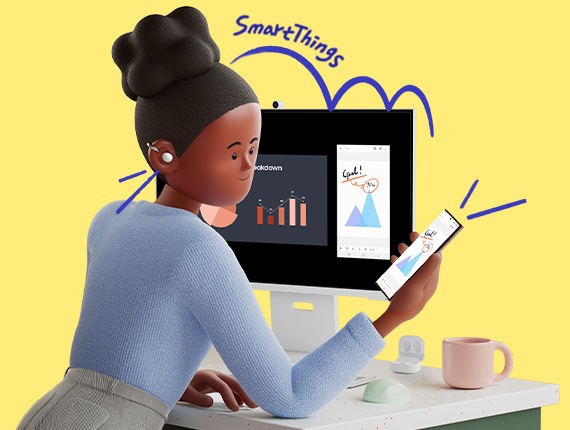 Set the Mood
Make your home ready for a party, a movie or a workout in seconds.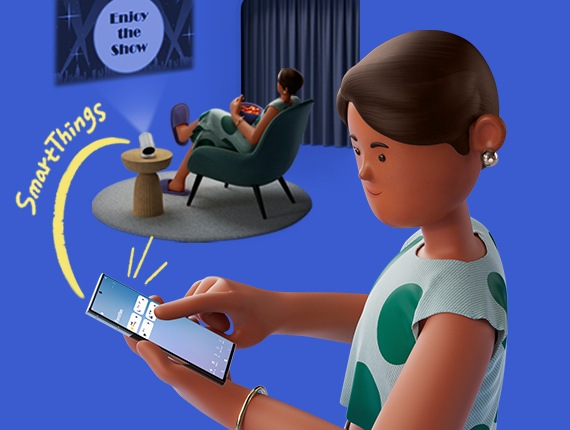 Think Green at Home
Save energy and prevent waste by monitoring everyday energy usage.

Care for Your Pet
Check in on your pet – and your home – even when you're away.
*All devices should be connected to Wi-Fi or other wireless network, and registered with a single Samsung Account. Availability may vary by country, region, service provider, network environment, or device, and may change without notice. Images and on-screen contents simulated for illustrative purposes. Actual UI may vary depending on software version, model, region, and other factors.
Samsung Health's Smart Trainer feature is currently available in the United States, Canada, South Korea and the United Kingdom. Availability of content service providers and subsequent fitness content may vary by country and region. The Smart Trainer feature is available from Q70B series and above.
Phone camera (Android OS 8↑, iOS 13↑) or additional compatible webcam required. Sold separately. If using phone camera as a webcam, TV should be registered in the SmartThings app first, and select [TV>Camera Sharing] in the SmartThings app on your phone. The supported webcams are Logitech C920, C920s, C922, C922x, C925e, C930e, etc. The list of supported webcam will be updated.
Intended for general wellness and fitness purposes only. Not intended for use in detection, diagnosis, treatment of any medical condition or disease. The measurements are for your personal reference only. Please consult a medical professional for advice. Available on Galaxy Watch 4 series and later generation Samsung Watch devices.
SmartThings Cooking service availability may vary by country, region, or device. Available on Android and iOS devices. (Android OS 8↑, iOS 13↑) A Wi-Fi connection and a Samsung Account are required. Recipes is available in certain languages, including English, French, German, Italian and Spanish.
'Send to Oven' function may vary by country, region or device, and is subject to change without notice.
The image above is for illustrative purpose only, it is recommended to use the tray enclosed in the oven package when it was originally purchased.
Mobile mirroring requires Wi-Fi or other wireless network connection and compatible mobile device(Android OS 8↑, iOS 13↑). Available Source: Tuner/HDMI, TV App, USB Webcam/IoT Cam, Android Mirroring/iOS Airplay/YouTube Casting. Multi View available from Q60B series and above.
TV models that support the SmartThings Hub include BU8000 series and above released in 2022. Compatible device should be registered with a single Samsung Account on SmartThings app.