The right vibe is only a click away
On the SmartThings app,1 you can pre-set your most often used scenes to automatically taken to create the mood you want.
Automation
Get ready to party
Set up your 'party mode' on the SmartThings app,1 and a single command will close your curtains, dim the lights,2 and turn on The Freestyle.3

Automation
Stay in for a romantic movie night
Use the SmartThings app1 to turn off the lights2 with a click, then enjoy an immersive cinematic experience with the Soundbar4 and big screen.5

Automation / Smart View
Start your workout easy
Open the curtains,2 cast a workout video to The Freestyle, connect your earbuds, and enjoy a workout session that feels as if you were at the gym.

Make your home suit your mood
Find more ways to Do the SmartThings!
Work from Home
Connect your mobile and desktop devices to work smarter at home.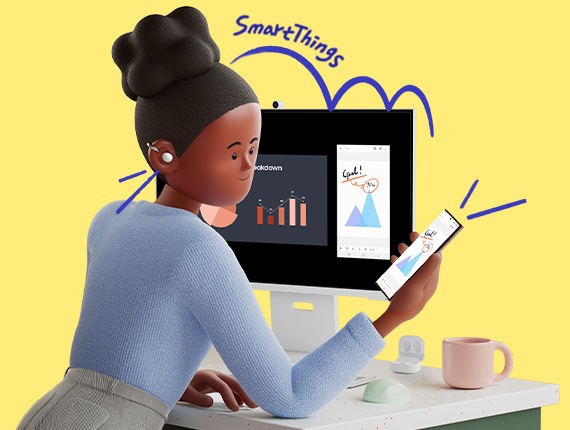 Think Green at Home
Save energy and prevent waste by monitoring everyday energy usage.

Stay Fit & Healthy
Create a daily routine of home workouts and healthy cooking.
Care for Your Pet
Check in on your pet – and your home – even when you're away.

* All devices should be connected to Wi-Fi or other wireless network, and registered with a single Samsung Account.  Availability may vary by country, region, service provider, network environment, or device, and may change without notice. Images and on-screen contents simulated for illustrative purposes. Actual UI may vary depending on software version, model, region, and other factors.
Available on Android and iOS devices. (Android OS 8↑, iOS 13↑) A Wi-Fi connection and a Samsung account are required. All devices should be registered in SmartThings app to pre-set your most often used scenes (Automation). Please find 'Works with SmartThings' logo on the product or product package.
Compatible smart curtains and lights required. Sold separately.
The Freestyle should be registered in SmartThings app.
Soundbar sold separately.
This Automation service only works with compatible TV models, which are registered in SmartThings app.