Samsung's Authorized Reseller Benefits Program
FOR HOME APPLIANCES AND HOME ENTERTAINMENT
BENEFITS
Samsung's Reseller Locater helps you find the nearest authorized Samsung reseller in the US. Purchasing Samsung products from an authorized reseller qualifies you for very important benefits:
The most up to date Samsung product information, product pricing and individual promotional offers.
Products purchased from authorized Samsung resellers are eligible for Samsung's 1 year limited warranty coverage in the event the product may require warranty service.
Knowledge that the products were purchased by trusted resellers directly from Samsung Electronics or an authorized Samsung distributor.
Knowledge that the products have been handled in a safe and legal manner.
Highly reduced risk of counterfeit products, or products that have been opened or tampered with prior to purchase.
Product and technical support for your purchase from an authorized Samsung service center.
Authorized resellers receive continuous product and service updates from Samsung's reseller support teams.
Please Note: Any Samsung product purchased from an unauthorized Samsung reseller may not be eligible for the benefits above, including the manufacturer's 1 year limited warranty.
SAMSUNG AUTHORIZED RESELLERS
To identify an authorized Samsung reseller and ensure that you qualify for the benefits above, look for one of these icons on the reseller's website:
Visit the product page and click "shop" to find an authorized reseller in your area. Click to see a complete list of available Samsung authorized resellers:
Please help us prohibit questionable business practices and any misrepresentation of Samsung products by unauthorized resellers and report suspected practices to 1-800-SAMSUNG (1-800-726-7864). Samsung appreciates your help in upholding the brand and value of your Samsung merchandise.

Fast, easy checkout with Shop Samsung App
Easy sign-in, Samsung Pay, notifications, and more!
Or continue shopping on Samsung.com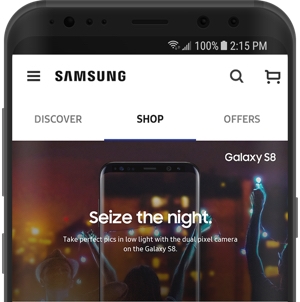 ×
You Are About To Be Redirected To Investor Relations Information for U.S.
Thank you for visiting Samsung U.S. Investor Relations. You will be redirected via a new browser window to the Samsung Global website for U.S. investor relations information.
×
Redirect Notification
As of Nov. 1, 2017, the Samsung Electronics Co., Ltd. printer business and its related affiliates were transferred to HP Inc.
For more information, please visit HP's website:
http://www.hp.com/go/samsung
Select CONTINUE to visit HP's website.