PHOTOGRAPHY
How to snap stunning
night cityscapes
Long exposure, a steady shot and Galaxy Z Flip4 are the keys to mastering urban photography after dark.
If you've ever tried to take a clear photo of a vibrant night cityscape, you know it's not as easy as heading downtown and snapping a couple of shots. The fast-paced energy and stark contrast between light and dark can make it a challenge to capture the details without the blur. So how do the pros do it? We teamed up with landscape photographer Michael Shainblum (@shainblumphotography) to show us how to bring your after-hours urban photography vision to life with Galaxy Z Flip4 and Galaxy Z Fold4.
Frame your cityscape
From hilltops to the heart of the city, find an interesting spot to frame your shot. "I really enjoy vantage points that are elevated above the city — those are my favorite," says Shainblum. Shooting from up high gives you clean views with an epic feel. If you're looking for more detail and tighter compositions, take it down to a street corner. Shainblum uses Galaxy Z Flip4's FlexCam to line up symmetrical views on city streets. "Look for leading lines, interesting patterns and textures to showcase," he says.
Stay steady without heavy gear
You don't want the camera moving during low light photography, so it's important to set up a steady spot. Tripods are great for locking down a shot but can be hard to carry around. Shainblum likes to travel light, especially when hiking up those San Francisco hills. Instead, he opts for a lighter option. FlexCam means you can take stable photos — no gear required.​ "I can get awesome long exposures without a giant backpack full of equipment," he says. Simply find a ledge, set your smartphone down and snap.
"I can get awesome
long exposures without a backpack full of equipment."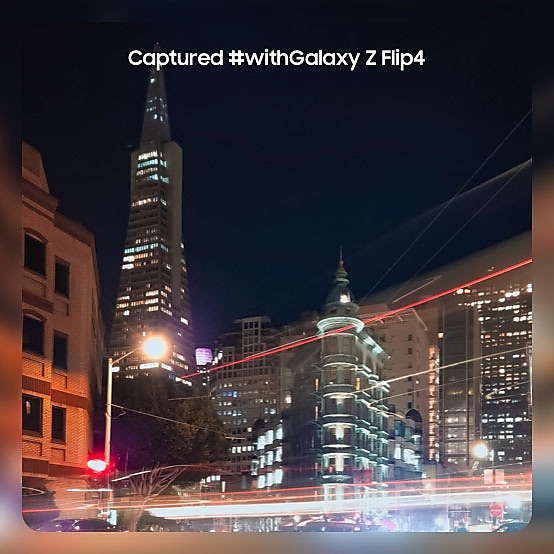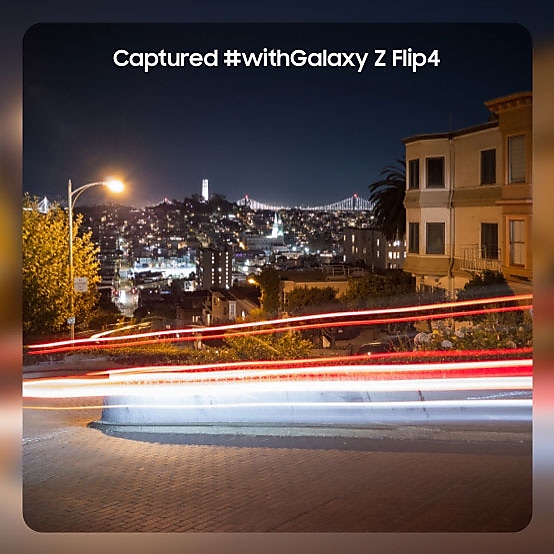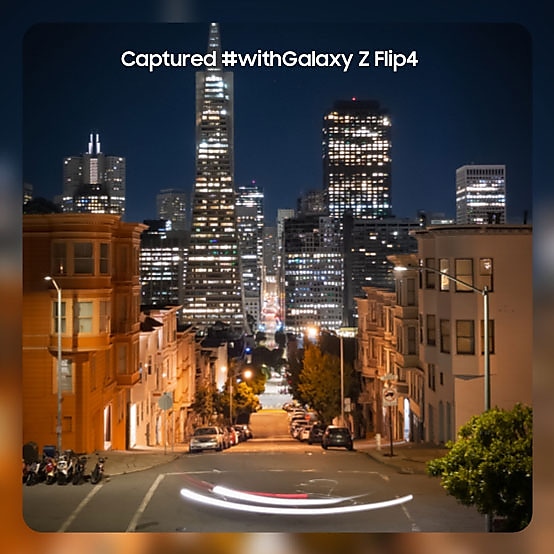 Capture motion
that moves you
Now it's time to add some life and really see the city lights at night. Shainblum turns car, bike and boat light trails into abstract flourishes across the cityscape. To get the cleanest shot, he keeps the ISO as low as possible. Just be careful— a really low ISO slows your shutter speed way down. It may stay open between two and eight seconds, so keeping your camera still is vital for a clear shot. Most importantly, be patient. Wait for the perfect moment of movement.
Edit like an expert
If you're planning to edit photos later, the Expert Raw1 photo app lets you export like a pro. RAW photos give you more data with each image and thus more flexibility to adjust color, contrast, white balance and more. When it's time to touch up, Shainblum uses Adobe Lightroom on the Galaxy Z Fold4's massive display to get the perfect look. "It feels so much better having a larger area to fine tune the details," he says. "I import the images straight on the device and I can edit the images on the go." Play with the advanced photo adjustments and effects to craft your perfect urban mood, from warm city lights to cold concrete.
1The Expert RAW app is available at Galaxy Store only for Galaxy Z Fold4, Z Fold3, Z Fold2, Galaxy S22 series, S21 Galaxy Ultra, Galaxy S20 Ultra and Galaxy Note 20 Ultra.

The city is your photo playground.
Shoot and edit your own epic city pics with foldable smartphones.