Upgrade your TV entertainment experience
Introducing our latest family of TVs. Explore the detailed features of our full lineup.
Explore our lineup of extraordinary TVs
Discover the TV or projector that's right for you.
Samsung Neo QLED TVs
Experience unrivaled technology and design in our ultra-premium 8K and 4K TVs.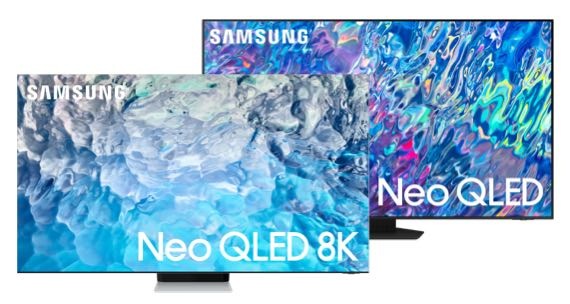 Samsung OLED 4K TVs
Turn up the drama with deep blacks from 8.3 million special self-lit pixels.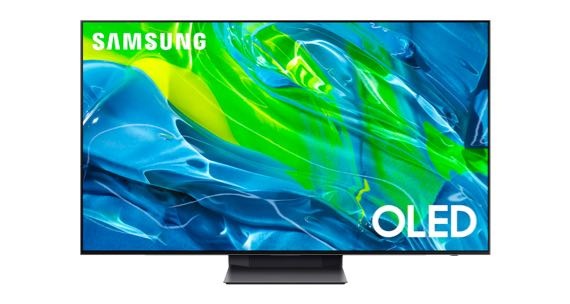 QLED 4K TVs
Take a leap into the world of bold contrast and vivid Quantum Dot color.

Lifestyle TVs & More
Browse our collection of TVs beautifully designed for how we live.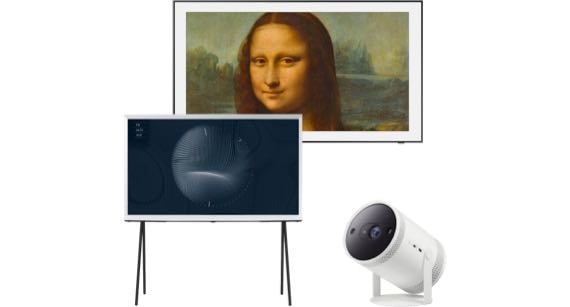 Neo QLED, QLED or OLED. Which one is best for me?
Samsung offers QLED, Neo QLED and OLED technologies to meet your preference and lifestyle. These premium TVs have Quantum Dot technology for jaw-dropping color and a highly rated¶ picture—the difference comes down to where and how the TV is used.

Samsung Neo QLED and QLED TVs are ideal for brighter rooms, bringing content to life in everyday lighting. Samsung OLED TVs excel in darker rooms, offering a deeply immersive, cinematic experience.

All three of our premium TV lines include a Quantum Dot display, a proprietary technology our competitors simply don't have. Take a look. It's up to you to decide which Samsung TV is right for you.

Explore the latest in Samsung TV technology
Samsung takes movies, sports, games and anything else you can show on a screen to extraordinary levels—with razor-sharp images, ultra-bright output and insanely crisp colors. 
Dive deeper into the features of Samsung TVs
Click around and get to know the features of our premium TVs.
Turn what you love into the ultimate entertainment experience
More ways to shop Samsung
Explore different ways to find your perfect TV.
Save up to $2,300 on the Samsung Neo QLED 4K
Get the home screen advantage with a Quantum Dot display that delivers over a billion shades of color.

Don't take our word for it
Samsung is proud of the achievements and accolades we've earned over the years for our award-winning, industry-leading TVs.
Samsung named no. 1 global TV manufacturer for 16 consecutive years¶


CES 2022 Innovation Awards Honoree for Samsung Neo QLEDs◊


"A quick side by side with the new competitive flagships justified my choice to give the Samsung QN90B the Top Choice Award."
– AVS Forum, QN90B

"If you are in the market for a new TV that excels in gaming, streaming and sports, this is an excellent choice in the mini-LED market."
-Newsweek, 65QN90B March 16, 2022


Rated #1 in Overall Customer Satisfaction, Product Quality, and Service Quality by the American Customer Satisfaction Index.††


Buy with confidence
Free Returns
Don't love it? Return it for free within 28 days.
Finance Available
Pay on your terms, from 6 to 48 months.
Free Delivery
Order by 8pm and get it the next day. 24/7 tracking.
†The Frame sold separately.
*To charge the remote with solar energy, set it down with the solar panel facing up. Place it in your living room while your lights are turned on, or, alternatively, place it near a window where it will soak in natural sunlight. Supports TV models 2022 Neo QLED 8K and 4K, QLED 4K, and The Frame.
#Content services may vary by regions and are subject to change without notifications.
**Products sold separately.
‡Only The Terrace Full Sun LST9T can be placed in the sun. The Terrace Partial Sun LST7T is designed for placement and use in outdoor shaded environments. The LST7T TV can be exposed to ambient or non-direct sunlight, but direct sunlight must be avoided.
¶ Source –Omdia, Jan-2022. Results are not an endorsement of Samsung. Any reliance on these results is at the third-party's own risk.
◊The CES Innovation Awards are based upon descriptive materials submitted to the judges. CTA did not verify the accuracy of any submission or of any claims made and did not test the item to which the award was given.
***Art store fees apply for subscription service
†† Based on the 2022 American Customer Satisfaction Index survey of customers rating their own TVs. ACSI is a registered trademark of American Customer Satisfaction Index LLC.
**** Offer Valid for limited period with Freestyle Purchase. Case Value $59.99 only.