Styling sustainably with upcycled fashionable
and recycled tech
Rising designers show how to repurpose materials into fashion looks.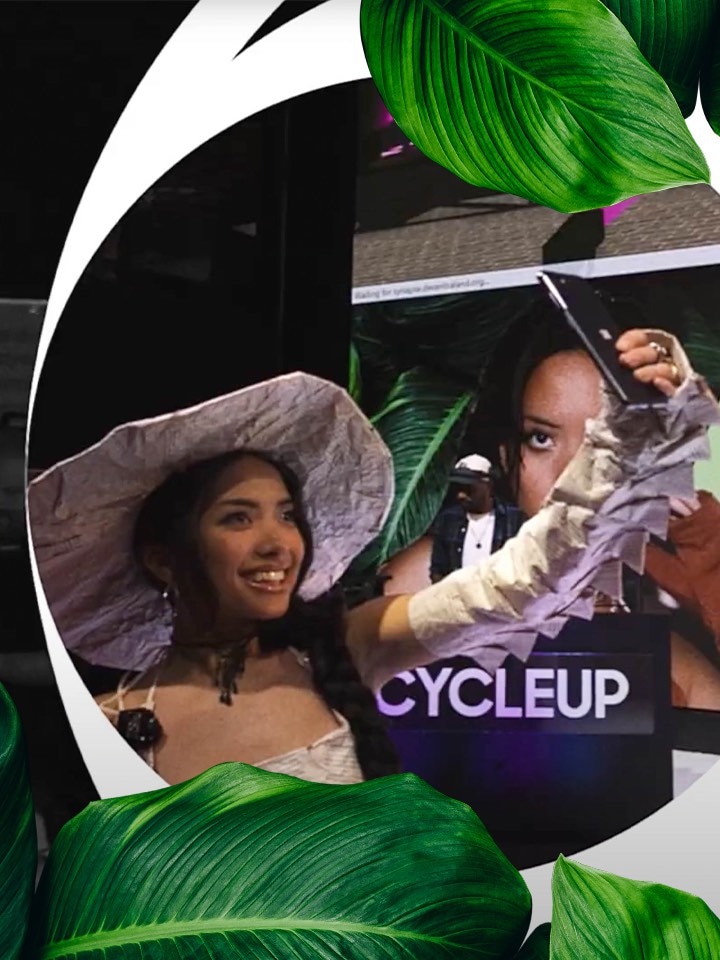 Fast fashion? So last year. With climate change heating up due to throwaway designs and overuse of plastic, wasteful clothing is definitely not on-trend. Now the hottest designers are ditching disposability to create pieces that last longer while using less. The best part is that anyone can achieve these totally unique looks without buying new clothes every season. Here's how you can create a custom wardrobe using only recycled materials and your own impeccable fashion sense. 
Where to start upcycling?
TikTok is overflowing with upcycling inspo and advice. From DIY tutorials to thrift hauls, there's a new movement of creative re-users posting under hashtags like #RecycleUp. Samsung brought together some of these upcycling influencers who are crushing it with sustainability hacks and some seriously fresh fit checks. Hosted by Nicole McLaughlin (@nicolemclaughlin), a creative upcycling genius who sparked a new genre of viral clothing mashups, the designers shared some tips for reducing waste by repurposing materials into high-fashion looks.
Start small. Save big.
The clothing industry accounts for nearly 10% of global carbon dioxide as well as a fifth of the 300 million tons of plastic produced globally each year, according to the United Nations Environment Programme.1 "When I started realizing the impact of fashion waste, I started using more thrifted and recycled materials in my designs," says designer Paige Sechrist (@paige.sechrist). Making a difference doesn't have to be daunting. "Start small," she says. "Steal some of your dad's old shirts with holes in them. Making simple alterations helps you build a more sustainable closet."
Recycle the runway
Some fashion and tech companies are tackling waste by using recycled materials, like discarded bottles in clothing or recycled ocean-bound plastic in Galaxy devices. Since 2012, Samsung has collected and recycled an average of 100 million pounds of e-waste every year in the United States. Companies are also focusing on creating built-to-last, repairable products and reusing old ones, whether it's a refurbished phone or a restored vintage jacket. Everyday changes like these can add up to meaningful impact.
Upcycling designers are making their own everyday changes to cut down on waste. They showed off their latest creations at the first #RecycleUp fashion show, merging physical and digital in New York's chic Meatpacking District. The inspiration didn't stop on the runway. Digital clothing designers in the metaverse also brought a whole new dimension to the show, literally. Check out the rare #RecycleUp wearables at 837X in Decentraland.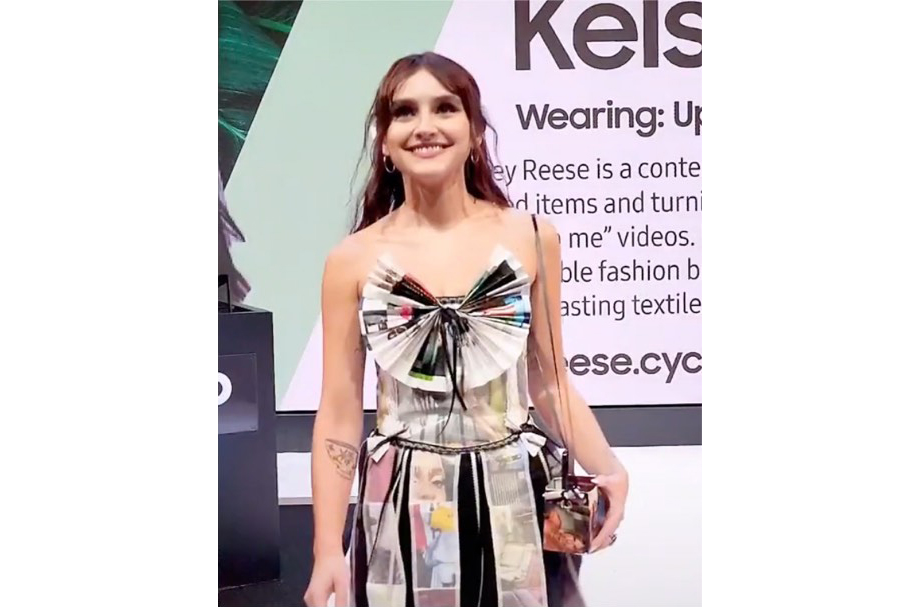 Kelsey Reese
Kentucky-based creator Kelsey Reese (@reese.cycled) uses upcycled plastic and paper to achieve classic silhouettes.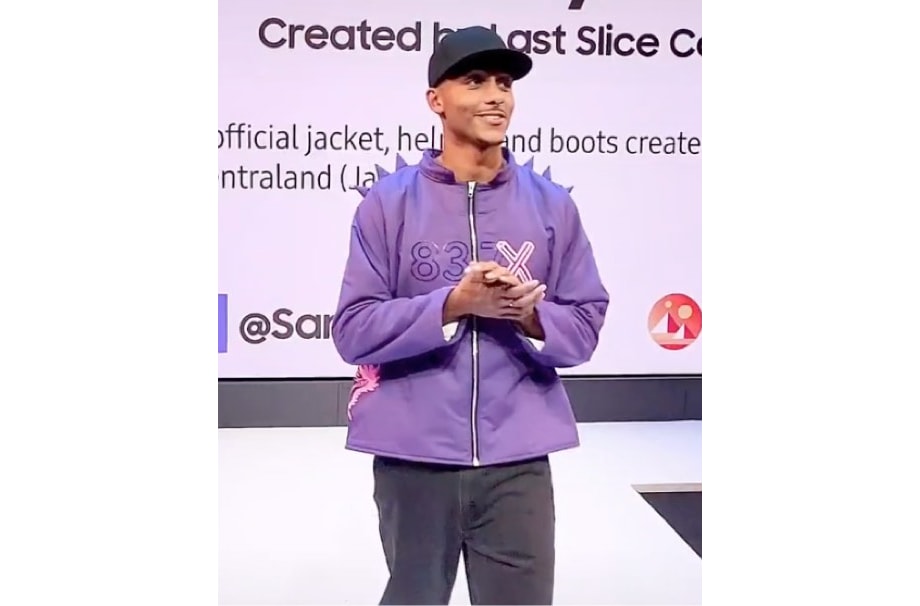 Andrew Burgess
Known for his use of secondhand blankets and quilts, Andrew Burgess (@wandythemaker) finds inspiration and materials in thrift shops, like the bedsheets used to recreate this metaverse wearable.
"I love reusing quilts because so much work goes into them. It feels good to give them a new life"
—Andrew Burgess, designer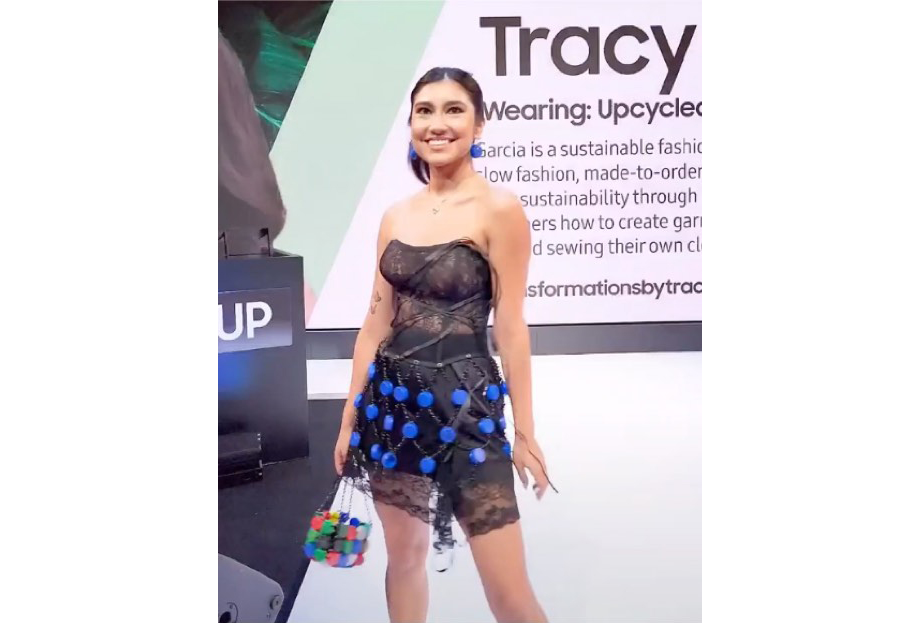 Tracy Garcia
Tracy Garcia (@transformationsbytracy) reused plastic water bottle caps and deadstock lace to create a stunning look.
Make a difference: Join the #RecycleUp movement
Start your own journey of everyday steps that make a meaningful impact by connecting with the sustainable upcycling community on TikTok. Creating custom looks and flexing your personal style have never been easier. Anyone can show off their own creations by using the #RecycleUp hashtag on TikTok, like designer Anna Molinari, who finds inspiration to keep her fits looking fine. "You don't need brand-new clothing from a department store when you can wear a one-of-a-kind piece of art," she says. While DIY designers are upcycling fashion, Samsung is recycling e-waste and using recycled materials to make an impact. From refurbished phones to repurposed clothes, reusing and reducing never gets old. Just one more reason to reimagine those gems from the back of your closet.

Give your feed a glow-up
Take hands-free pictures of your OOTD with features like FlexCam.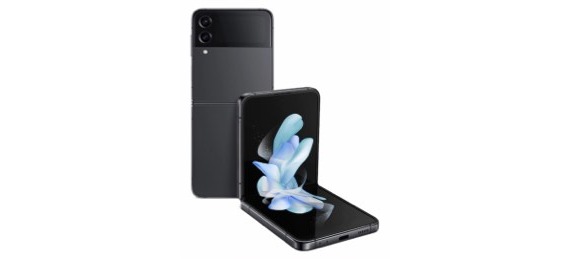 Galaxy S21 Certified
Re-Newed